Iron Gym Extreme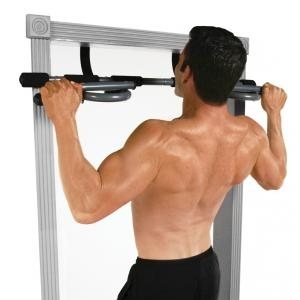 Price
Delivery time
Immediately
, available in our stock.
Detailed availability
Detailed availability
Weight
3.4

kg (with sales package 3.60 kg)


Description
Iron Gym Xtreme™ is the multi-function exercise bar you can use to do pull-ups, chin-ups, sit-ups, arm and shoulder exercises - every exercixe you need to build a powerful upper body! The Iron Gym Xtreme™ uses your body's own resistance to deliver powerful results fast. It strengthens and tones your biceps, triceps, chest, arms, shoulders and abs. It instantly attaches to or removes from your door frame with no drilling or tools. The heavy duty steel construction supports up to 136 kg! Now it's easy to get the strong, lean body you've always wanted, right at home.

-Additional Grip Positions
-No Drilling! No Tools! No Fasteners!
-Attaches & Removes From Door Frame In Seconds
-Fits All Standard Door Frames (60cm-80cm)
-Professional Quality - Built To Last
-Professional Grade Foam Grips
-Quick & Easy Assembly (tools Included)
-includes the ultimate upper body workout & nutrition guide
-Package Size: 51,5 x 8,3 x 22,3 cm


The approximated packaged size or the size of the product's package is 515 x 83 x 223 mm.
Iron Gym
- All products of the brand


Comments
Add your own comment
Opinions
See also
Products that have often been ordered with this product: