Aerobie Arrow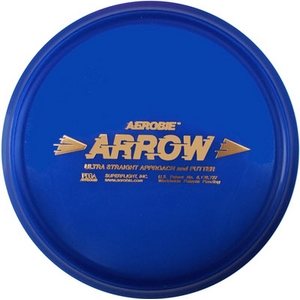 Price
Delivery time
Immediately
, available in our stock.
Detailed availability
Detailed availability
Weight
0.186

kg (includes the weight of the package if present)


Country of origin
United States


Description
Introduced in 2003, the Aerobie Arrow approach and putter golf disc brings the patented Aerobie spoiler rim to the game of disc golf. With the straightest flights and least fade of any known disc, the Arrow golf disc's unique aerodynamic design makes its flights predictable and true to the target. The disc's ergonomic grip is perfect for consistently accurate throws. PDGA approved. Weight: 164-168 grams.

This product may be delivered in an envelope. 2 pc's of the item may be put in an envelope.

The approximated packaged size or the size of the product's package is 250 x 230 x 19 mm.
Aerobie
- Since 1984, Aerobie brand sport toys have been known to provide exciting performance while encouraging physical activity... more
- Home page www.aerobie.com
- All products of the brand


Comments
Add your own comment
Opinions
Products that have often been ordered with this product: